Hercules - Hydraulic Break Out Tong
The HERCULES K1 Break Out Tong Machines, meticulously crafted by OCMA DrillTech, are compact and portable units designed specifically for the systematic disassembly of Down The Hole Drilling tools and equipment.
The Hercules K1 breakout tong unit is not only portable but also ingeniously designed with a small footprint, allowing it to be easily operated by a single person. Its versatility is evident in its capability to be used in both horizontal and vertical applications, adapting to various work requirements and site locations.
These machines, characterised by their modest footprints, excel in efficiently navigating confined spaces, making them ideal for operations managed by a single  operator.
Engineered using specialised HARDOX 400 steel structures, they boast remarkable robustness, ensuring the ability to endure substantial loads with ease.
With a range of four models, the K1 variant stands out by offering adaptability in working diameters, spanning from 3″ to 12″ tooling.
Available with:
Electric motor – 380 – 440v 3 phase
Diesel engine – 6hp electric start
Fork lift pockets
Heavy duty pneumatic wheels 
Working Diameter – 3-12″ 
Weight – 450kg
Max working pressure – 120 Bar
Thrust force  – 110,000 N
Rotation Torque 55,000Nm
Breaking out drill collars with the Hercules K1 Hydraulic breakout tong.
Hercules K1 breakout tong ready to ship to a valued customer.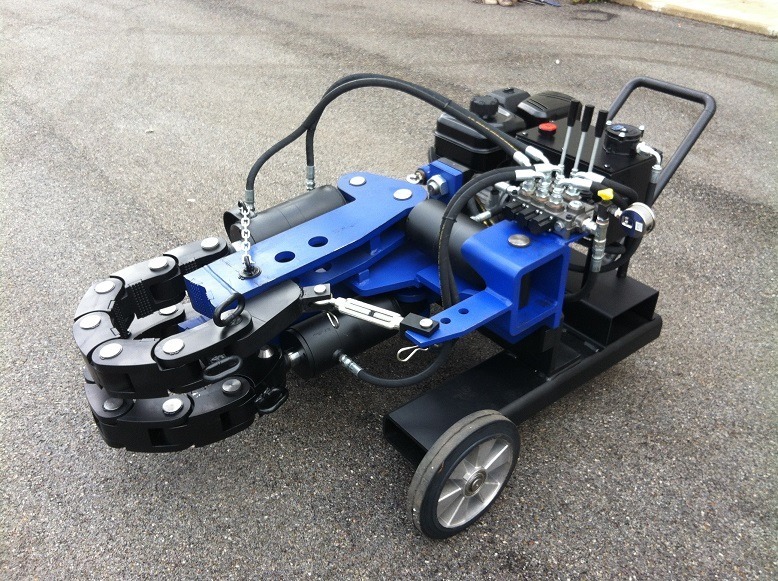 Hercules K1 hydraulic breakout tong set for vertical operations.
NB: heavy duty pneumatic wheel option available